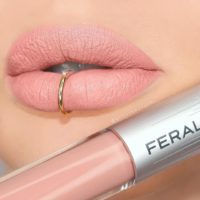 Review: Feral Cosmetics Liquid Matte Lipsticks
About the Brand
Feral is bold, beautiful, and wild just like the Feral Cat. We are professionals with fierce beauty initiatives. We care about our community and the environment. We are committed to Beauty with a cause to empower one another. So step out of your comfort zone and #letsbeferal.
– Feral Website
The Formula
Official Formula Description: It applies creamy smooth, is fully opaque and dries matte. It is Long Lasting with our Special Formula. Completely Cruelty-Free & Vegan. Our products are free from any animal derived ingredients and we do not test on animals. Made in USA.
SIZE: 0.12 fl. oz / 3.5 g
*This brand is 100% Cruelty Free & Vegan!*
The Colors
The Feral Cosmetics Liquid Matte Lipsticks include 14 colors:
Beach Bum, Berry Sexy, Butt Naked, Home Wrecker, Lustful, Mauve Along, Mochaholic, Page Me 143, Paint Me Pink, Rose All Day, Say I Do, Sex on the Beach, Skin Tight & Unicorn Poop.
Swatches
Availability
Available for $18 (USD) at FERALCOSMETICS.
Social Links