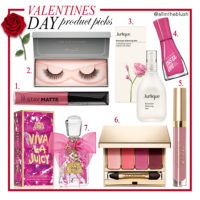 Valentines Day Beauty Product Picks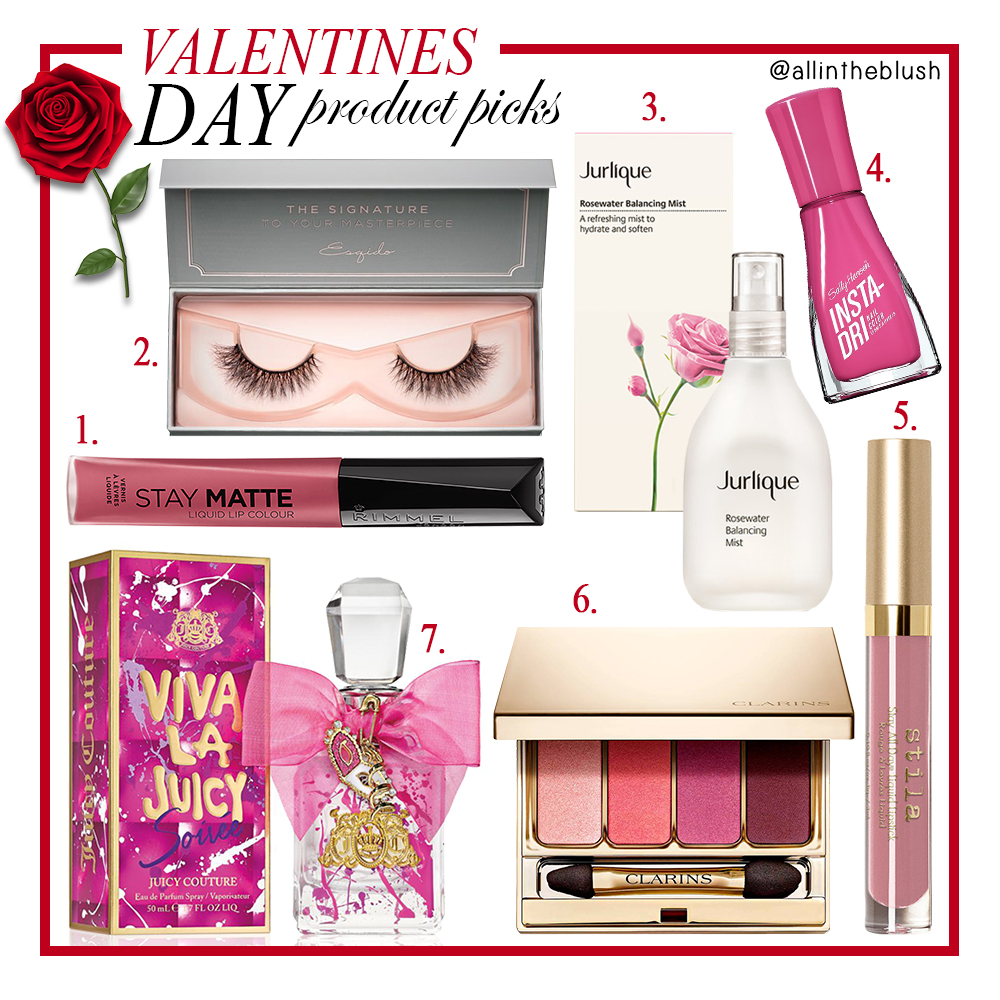 Regardless of your relationship status, Valentines Day is a celebration of love, and love is certainly not limited to just significant others. Whether you're going out to a swanky restaurant, hosting a dinner, or going out with your girlfriends, Valentines Day is a day to look and feel your best self. With that being said, I have rounded up a list of all of my V-Day beauty product picks for the romantic holiday! Let's begin!
The Products
1. Rimmel London Stay Matte Liquid Lip Colour "Heartbeat" ($5.49)
Brighten up your pucker this V-Day with Rimmel London's Matte Liquid Lipstick in 'Heartbeat'. This kiss-proof pink hue has a velvety matte finish and stays on up to 24 hours! Buy at TARGET or WALGREENS.
2. Esqido 'Mystic' Upper Lashes ($32)
There's just something about having long doll-like lashes that makes all of us feel so pretty. My current favorite false eyelashes are the Esqido 'Mystic' Upper Lashes. These fashionable mink lashes have a voluminous and winged out design, giving you the perfect look for a romantic night out (or in!). Buy at ESQUIDO.
3. Jurlique Rosewater Balancing Mist ($35)
Keep skin looking flawless and hydrated this V-Day with the Jurlique Rosewater Balancing Mist. This light, hydrating mist balances and conditions skin to keep makeup looking fresh and dewy all day long. Formulated with rose essential oil, marshmallow, and aloe, this mist not only hydrates, but helps to restore, tone, and balance the look and feel of skin. Buy at SEPHORA or DERMSTORE.
4. Sally Hansen Insta-Dri Nail Color "Peppy Le Fuchsia" ($5)
Give your nails a Valentines Day manicure in Sally Hansen's Insta-Dri Nail Color in "Peppy Le Fuchsia". The newly upgraded 3-in-1 formula of the Insta-Dri line has a built-in base and top coat that extends wear by an extra day. The Insta-Dri line also extended their shade range from soft, subtle neutrals to bright and vibrant tones. Buy at TARGET or ULTA.
5. Stila Stay All Day Sheer Liquid Lipstick "Sheer Patina" ($22)
The cult-favorite Stay All Day Liquid Lipstick by Stila is now available in sheer form! The Stay All Day Sheer Liquid Lipstick has the same staying power as the original, but with a more softer finish. Formulated with nourishing Vitamin E and Avocado Oil, this lipstick keeps lips hydrated while giving a natural flush of color. 'Sheer Patina' is perfect for V-Day as it's a sheer dusty rose hue… need I say more? Buy at ULTA or CULTBEAUTY.
6. Clarins Paris 4-Colour Eyeshadow 07 Palette ($44)
Make those eyes pop this Valentines Day with Clarin's Paris 4-Colour Eyeshadow Palette. The high-voltage eyeshadow quads glide smoothly over eyelids, for a crease-free and long-lasting look. These shadows can also be mixed with a bit of water for a more intense look. The warm shades in this palette are also very fitting for the holiday centered around red and pink hues. Buy at NORDSTROM or MACYS.
7. Juicy Couture Viva La Juicy Soirée ($78)
Juicy Couture's new Viva La Juicyi Soirée is THE perfect fragrance to turn heads this Valentines Day. The fragrance opens with enticing jeweled fruits like pink kiwi and sparkling mandarin. At the heart, Jasmine and water lily gleam feminine allure, while tantalizing amber, musk and soft woods emit a warm and intoxicating finish. Buy at ULTA or MACYS.
What are some of your V-Day product picks? Let me know in the comments below! 🙂