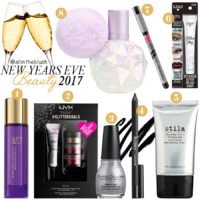 NYE Beauty Essentials for 2017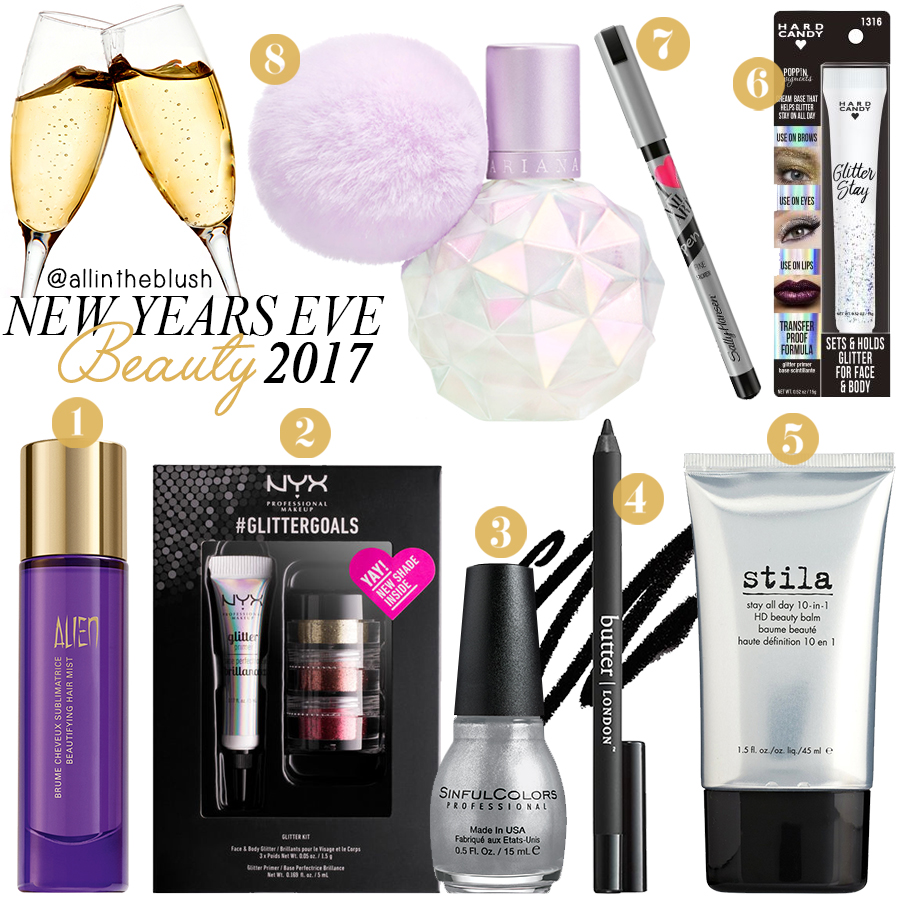 New Year's Eve is the night to go all out – especially when it comes to your beauty routine. From sparkly nail lacquers to seductive fragrances, I have handpicked a list of 8 beauty products that will make for the perfect NYE glam look.
The Products
1. Mugler Alien Mugler Beautifying Hair Mist 1 oz ($40)
Ever since I discovered scented hair mists I haven't been able to stop spritzing! My current favorite is the Mugler Alien Mugler Beautifying Hair Mist. This unique product was one the first of its kind and was brought to life by master of innovation, Thierry Mugler. Spray a celestial mist onto hair for a delicate, fresh scent. Buy at NORDSTROM or ULTA.
2. NYX #glittergoals Glitter Kit ($15)
New Years just wouldn't be complete without lots and lots of glitter! The NYX #glittergoals Glitter Kit is a must-have for making a statement this New Years Eve. Available in three lustrous shade variations, this face & body glitter kit contains 3 shimmer pigments and 1 travel-sized tube of glitter primer. The primer is great for keeping all of the sparkles in place and making sure you stay glowing throughout the night! Buy at ULTA.
3. Sinful Colors "Out Of This World" ($1.99)
The Sinful Colors Decked Out collection features an assortment of gorgeous shimmer polishes that will have everyone lusting over your mani. The 'Out of this World' shade is a shimmering silver splendor that is the perfect shade to rock this New Year's Eve. All of these polishes are Toluene, Formaldehyde & DBP free and are formulated with bold and vibrant color. Buy at TARGET.
4. Butter London Wink Eye Pencil Crayon "Union Jack Black" ($18)
Eyeliner is always a beauty essential, but especially on New Year's! The Butter London Wink Eye Pencil Crayon in "Union Jack Black" is my current favorite black eyeliner. The soft glide formula makes for an effortlessly precise application and is long-lasting as well. After applying, this liner is very easy to blend in case you are doing a more smoky eye effect. This eye pencil is also transfer-proof and waterproof. Buy at ULTA.
5. Stila Stay All Day 10-in-1 HD Beauty Balm ($38)
One of the most important products in creating an even and eye-catching makeup look is skin primer! The Stila Stay All Day 10-in-1 HD Beauty Balm creates a smooth and seamless canvas for a flawless makeup application. Formulated with innovative micro spheres, this beauty balm glides onto skin effortlessly and leaves a silky, powder-like finish. This balm is also great for hiding imperfections such as blemishes and uneven skin tone. In addition, this primer also helps to reduce wrinkle depth up to 84% to diminish the appearance of fine lines and early signs of aging. Buy at NORDSTROM.
6. Hard Candy Glitter Stay Glitter Primer ($5)
One of my favorite glitter primers and a must-have if you're rocking sparkles this NYE is the Hard Candy Glitter Stay Glitter Primer. This primer is specially formulated to be used before applying the Hard Candy Poppin Pigments Loose Glitter Trios (also an essential for NYE). The primer prevents glitter and sparkly pigments from transferring and helps it stay in place all night long. After applying, allow the glue to become dry/tacky before putting on any glitter or pigment. This primer can be used on lips, face, or eyes. Buy at WALMART.
7. Sally Hansen Nail Art Pen "Fine Silver"($5.49)
Yearning for a NYE mani? Look no further than the Sally Hansen Nail Art Pen! The 'Fine Silver' shade is the perfect way to amp up your New Year's manicure with some sparkle accents. These fine-tip pens make it easy to add designs to your nails and have a mistake-proof formula that can be removed/corrected with a damp cotton swab. Buy at TARGET.
8. Ariana Grande Moonlight by Ariana Grande 1 oz. ($39)
Be irresistible this New Year's Eve with Ariana Grande's "MOONLIGHT" fragrance. MOONLIGHT is a seductive fragrance that embodies Ariana's optimistic energy and confident spirit, making it even more fitting for the day we all create our resolutions for the upcoming year. Opening with notes of sparkling rich black currant and juicy plum, this ultra-feminine scent creates a lasting trail of addiction. Middle and end notes follow with fluffy marshmallow, fresh peony, and a final touch of creamy sandalwood. Buy at ULTA.
What are some of your favorite NYE beauty products? Let me know in the comments below! 🙂