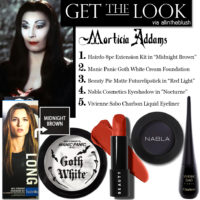 Halloween How-To: Morticia Addams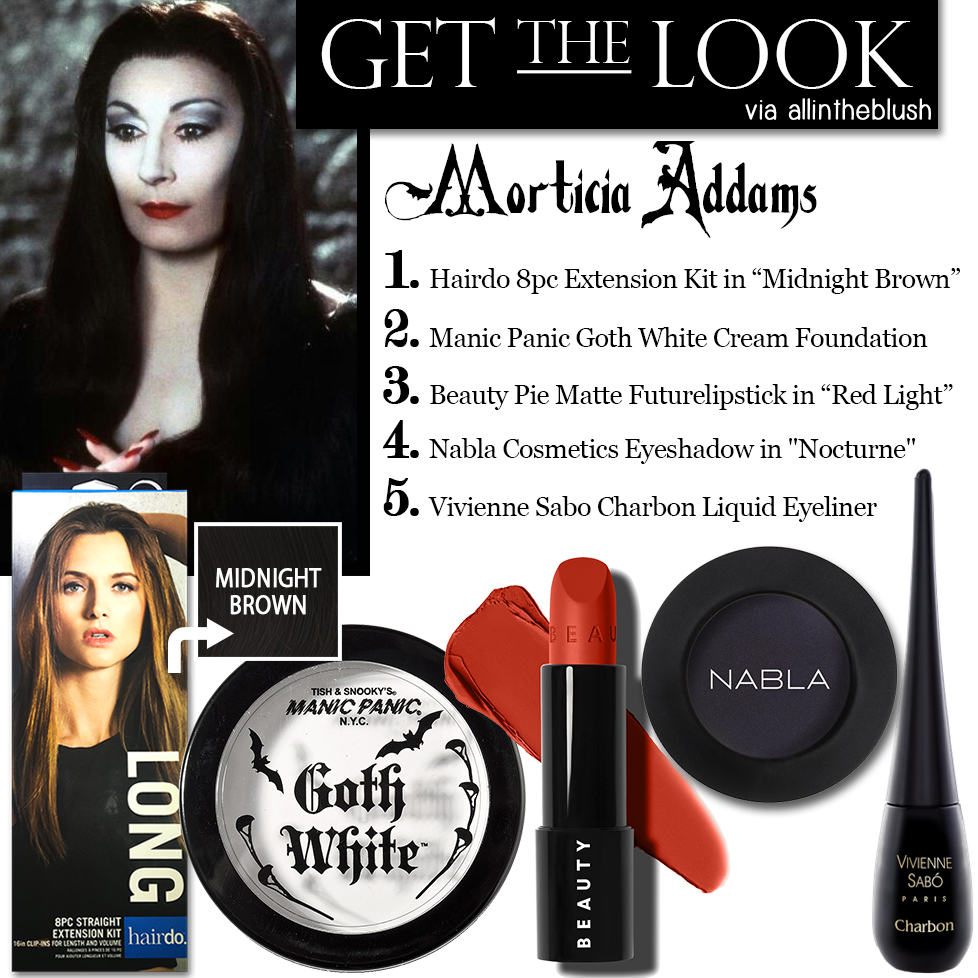 Halloween has been my favorite holiday for as long as I can remember. In fact, I loved it so much as a child that I didn't wait until October 31st to wear my costumes in public. Even in my 20's I am still obsessed with the spooky holiday and putting together a damn good costume. If you haven't decided what you're going to be this year, or need a little help putting together your costume, I have you covered! I am going to be making quick & simple beauty how-to's for several different Halloween costumes. The first and my personal favorite one up on the list of Halloween how-to's is the iconic and beautiful Morticia Addams!
The Products
1. Hairdo 8PC Straight Extension Kit (Long) ($79.99)
One of Morticia's most distinctive features is her long, long black hair. If you don't have black hair then you'll want to wear a wig, but if you have black hair like me, you can add length with the Hairdo 8PC Straight Extension Kit. You can even pick and choose how many extensions you want based on your hair thickness. Buy at ULTA.
2. Manic Panic "Goth White" Cream Foundation Powder ($12)
Morticia's pale but glowing skin can be replicated with Manic Panic's best-selling "Goth White" Cream Foundation Powder. It has a velvety smooth texture that applies as a cream but dries to a powder finish. If you don't want to go too pale, you can always mix this in with your regular foundation to create a very light base. Buy at HOTTOPIC.
3. Beauty Pie Matte Futurelipstick "Red Light" ($25)
Nothing is more sexy than a bold red lip, so it's no wonder the queen herself rocks it on a daily basis. Beauty Pie's Matte Futurelipstick in "Red Light" is the perfect red to channel Morticia's signature lip. This highly luxuriously pigmented lipstick goes on super smooth and keeps lips hydrated throughout wear. Buy at BEAUTYPIE.
4. Nabla Cosmetics Eyeshadow "Nocturne" (€ 7,90)
Morticia's unmistakable black eyeshadow is a must if you really want to nail the look. Use the Nabla Cosmetics Eyeshadow in "Nocturne" a soft matte black hue. These eyeshadows are my favorite because they blend super easily and are completely matte. Use an eyeshadow brush to blend this in the corners all the way up to the eyebrows almost, and then you can use a white shadow or the Goth White foundation to fill in the center eyelid. Buy at NABLA.
5. Vivienne Sabo Charbon Liquid Eyeliner ($8.99)
Finish off your smokey eye with a winged liner using the Vivienne Sabo Charbon Liquid Eyeliner. This French-based brand has just launched in the U.S. and their products are not only high quality and luxurious but very affordable too! Buy at AMAZON.
What Halloween costume do you want to see a beauty how-to for next? Let me know in the comments below! 🙂