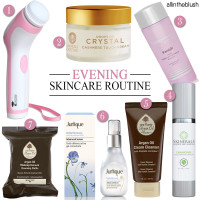 My Evening Skincare Routine for Spring 2017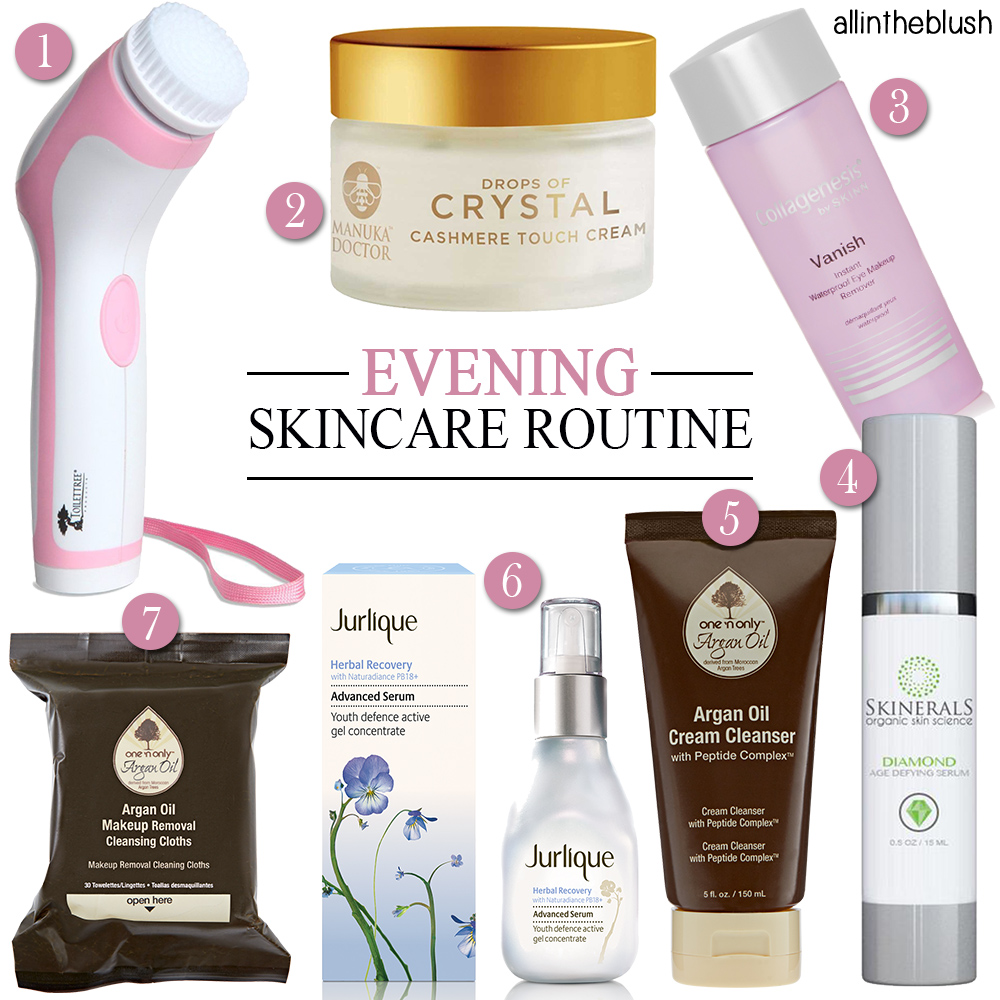 With the Spring season among us, beauty brands are rolling out new and innovative skincare products. The technology and research behind all the great skincare products is always improving, which is why I'm always switching up my skincare regime. With that being said, I've rounded up my current evening skincare favorites for Spring 2017.
The Products
1. ToiletTree Facial Brush Skin Cleansing System ($34.95)
Ever since I discovered the Toilettree Facial Brush, I've become obsessed with washing my face! I used to dread the process of removing my makeup before bed but this advanced cleanser seriously makes it an enjoyable process. The exfoliating facial brush spins at just the right speed to remove dead skin cells and deep clean skin. This innovative brush also comes in 6 fun colors but my personal favorite is the pink! The kit includes the battery-operated cleansing brush and four interchangeable rotating heads. Buy at AMAZON.
2. Manuka Doctor Drops of Crystal Cashmere Touch Cream ($39.95)
For me, one of the most important features in a night cream is anti-aging benefits. Luckily, I recently discovered the Manuka Doctor Drops of Crystal Cashmere Touch Cream which has made a huge difference in my skin within just a few weeks. Clinically proven to reduce wrinkles and increase firmness, this cream absorbs into skin instantly and smoothes and moisturizes uneven skin tones. Every morning after use, my skin looks noticeably radiant and appears more plump and firm. I also apply this cream to my neck before bed as well. Buy at MANUKADOCTOR.
3. Skinn Vanish Instant Eye Makeup Remover ($26)
Before I do any cleansing, I use the Skinn Vanish Eye Makeup Remover to take off as much of my makeup as I can. The gentle formula is perfect for removing eye makeup, and doesn't burn my eyes like many makeup removers tend to do. The oil-based and nutrient infused remover also helps to condition lashes and hydrate skin. The luxurious formula is blended with Chamomile, Marula Oils, and Vitamin B5, making it so much more than just a standard makeup remover. Buy at SKINN.
4. Skinerals Diamond Age Defying Serum ($29.99)
I always apply an anti-aging serum and let it absorb into skin for a couple minutes before I apply my regular moisturizer. The Skinerals Age Defying Serum is my current obsession and a product I'm really excited to share with all of you. It's formulated with aloe leaf juice, safflower oil, honey and many other organic ingredients that help to nourish and revive skin. The Skinerals brand also has an abundance of other amazing skincare products that I would highly recommend trying! Buy at SKINERALS.
5. One 'n Only Argan Oil Cream Cleanser ($9.99)
First, let me start off by saying how in love I am with One 'n Only's line of Argan Oil skincare products! They're not only super effective but very affordable! I use the Argan Oil Cream Cleanser in conjunction with my Toilettree Exfoliating Brush to gently cleanse and remove the remainder of my makeup. This cleanser removes all dirt and oil so I have a fresh face to apply all of my moisturizes and serums. Formulated with fruit derived AHA and Peptide Complex, this cleanser not only cleanses but moisturizes and smooths skin as well. Buy at SALLYBEAUTY.
6. Jurlique Advanced Eye Serum ($48)
They say eyes are the window to the soul, so choosing an effective eye cream is essential. Thankfully, Jurlique's Advanced Eye Serum targets all visible signs of fatigue around the eyes which include dehydration, fine lines, puffiness, and undereye bags. The powerful and soothing formula contains Jurlique's innovative Naturevive PB18+ Complex which revitalizes and protects the delicate skin around the eyes from environmental aggressors. I even use this serum in the morning about 30 minutes before applying makeup. Buy at SEPHORA.
7. One 'n Only Argan Oil Makeup Removing Wipes ($5.99)
Another Argan Oil product from the One 'n Only line that I use before bed is their Makeup Remover Wipes. Formulated wtih argan oil, Vitamin E, and aloe vera, these wipes gently but effectively remove dirt, oil and makeup without any water or rinsing needed. These wipes are also great for travel! Buy at SALLYBEAUTY.
What are some of your favorite evening skincare products? Let me know in the comments below! 🙂