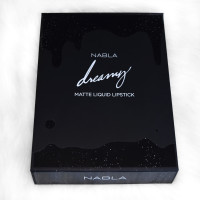 Review: Nabla Cosmetics Dreamy Liquid Lipstick Bundle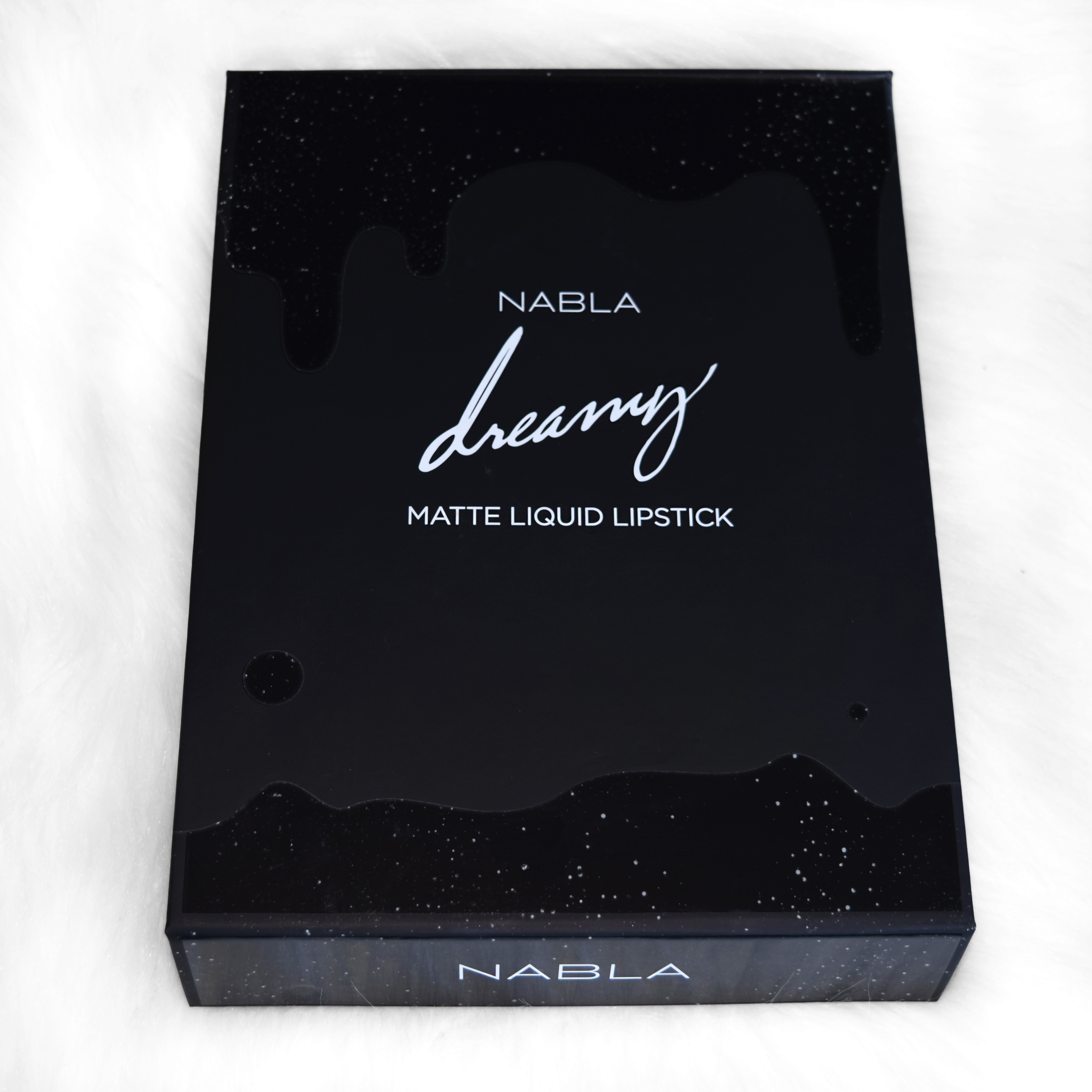 Italian indie brand, Nabla Cosmetics is a brand to pay attention to. I just received their Dreamy Liquid Lipstick Bundle, a kit full of 14 liquid lipsticks packaged in a star adorned foldable box. To say I was immediately intrigued would be an understatement. My face literally lit up with hearts in my eyes (emoji style), when I unfolded this magical lipstick kit. Without spoiling too much more, I have reviewed and swatched a handle of these gorgeous lippies for all of you. Let's begin the review!
The Brand
Before I discuss the lipsticks and their formula, I wanted to give a brief overview of the brand. The Nabla Cosmetics name was inspired by the mythology of the God of all the Arts and Apollo, to the point of becoming it's own distinct symbol. In other words, the meaning of the name represents the universal inspiration of creativity, combining both science and aesthetics with the idea of makeup being an artistic power. Pretty cool, right? The brand is very customer-oriented, and heavily focuses on the quality of their makeup products.
The Dreamy Liquid Lipstick Bundle
Official Description: A limited edition lipstick vault containing all the 14 shades of the Dreamy Matte Liquid Lipsticks!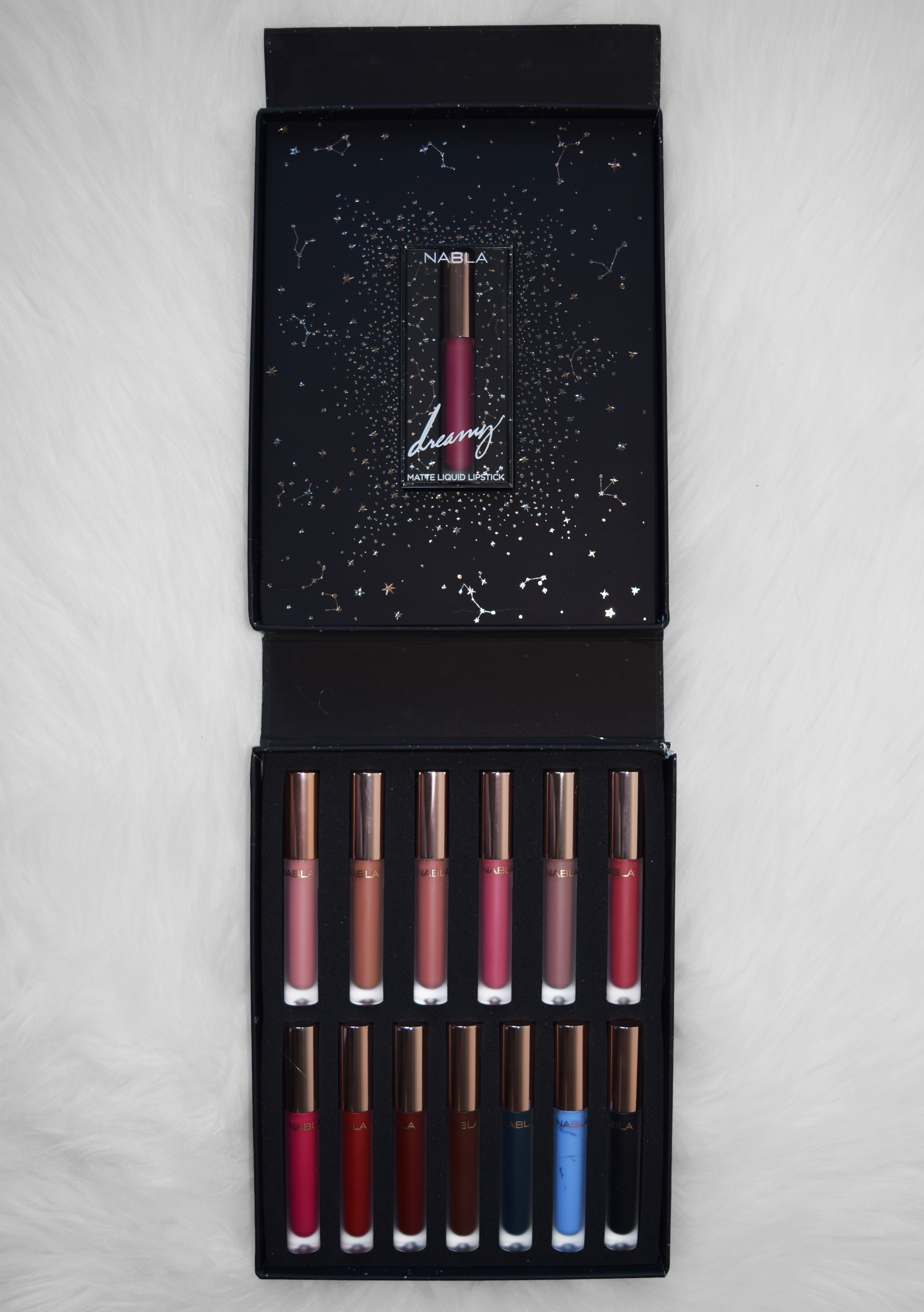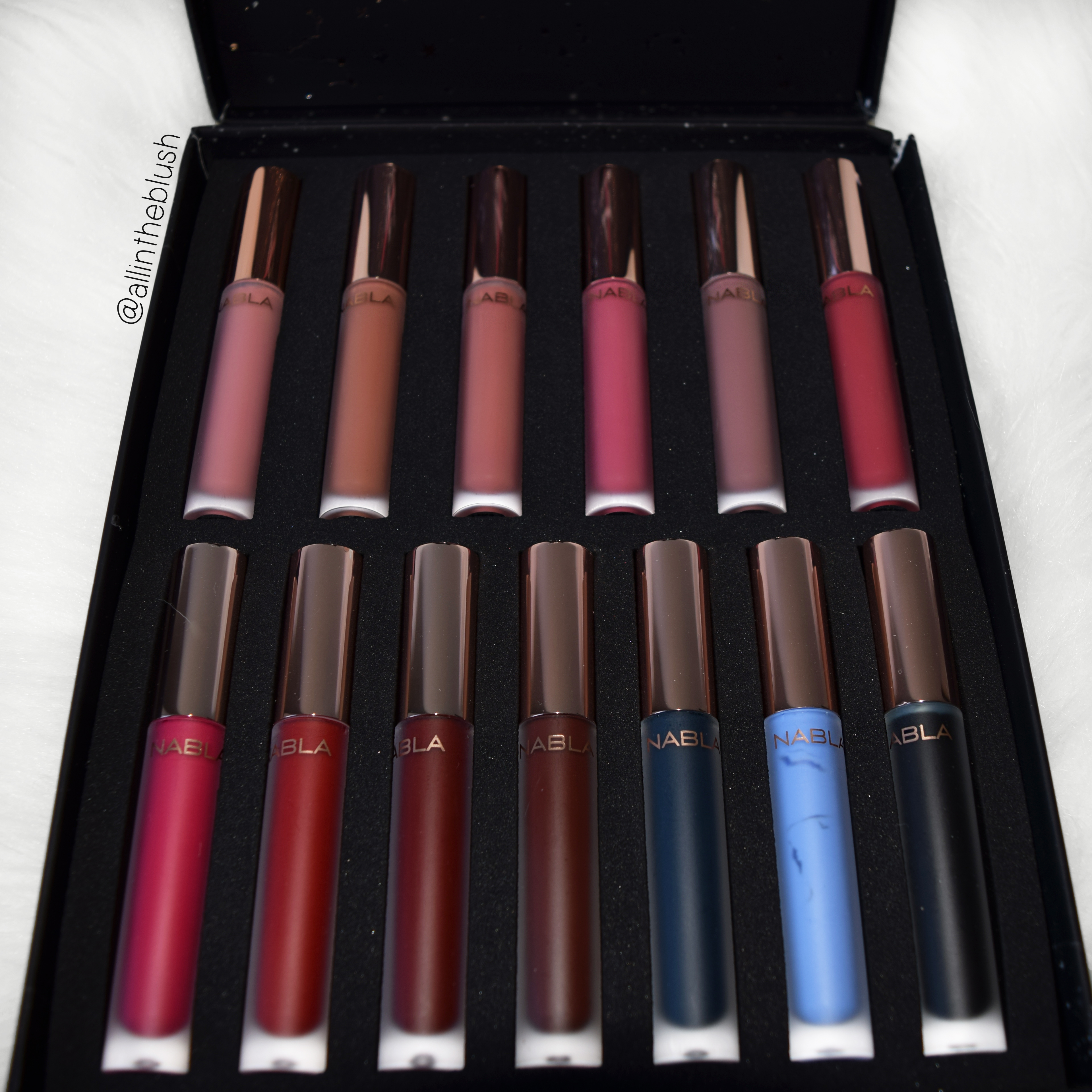 The Colors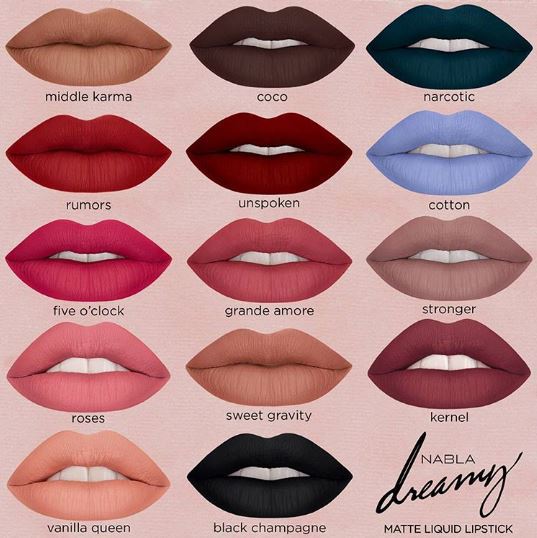 Vanilla Queen: Light-medium peach with a hint of pink.
Middle Karma: Honey brown.
Sweet Gravity: Warm rosy brown.
Roses: Intense warm pink.
Stronger: Dusty mauve-hazelnut.
Grande Amore: Rosy red.
Kernel: Medium plummy-red brown.
Five O'Clock: Warm bright fuchsia.
Rumors: Deep red.
Unspoken: Dark ruby.
Coco: Dark chocolate.
Narcotic: Prussian blue.
Cotton: Wisteria blue.
Black Champagne: Black velvet.
Swatches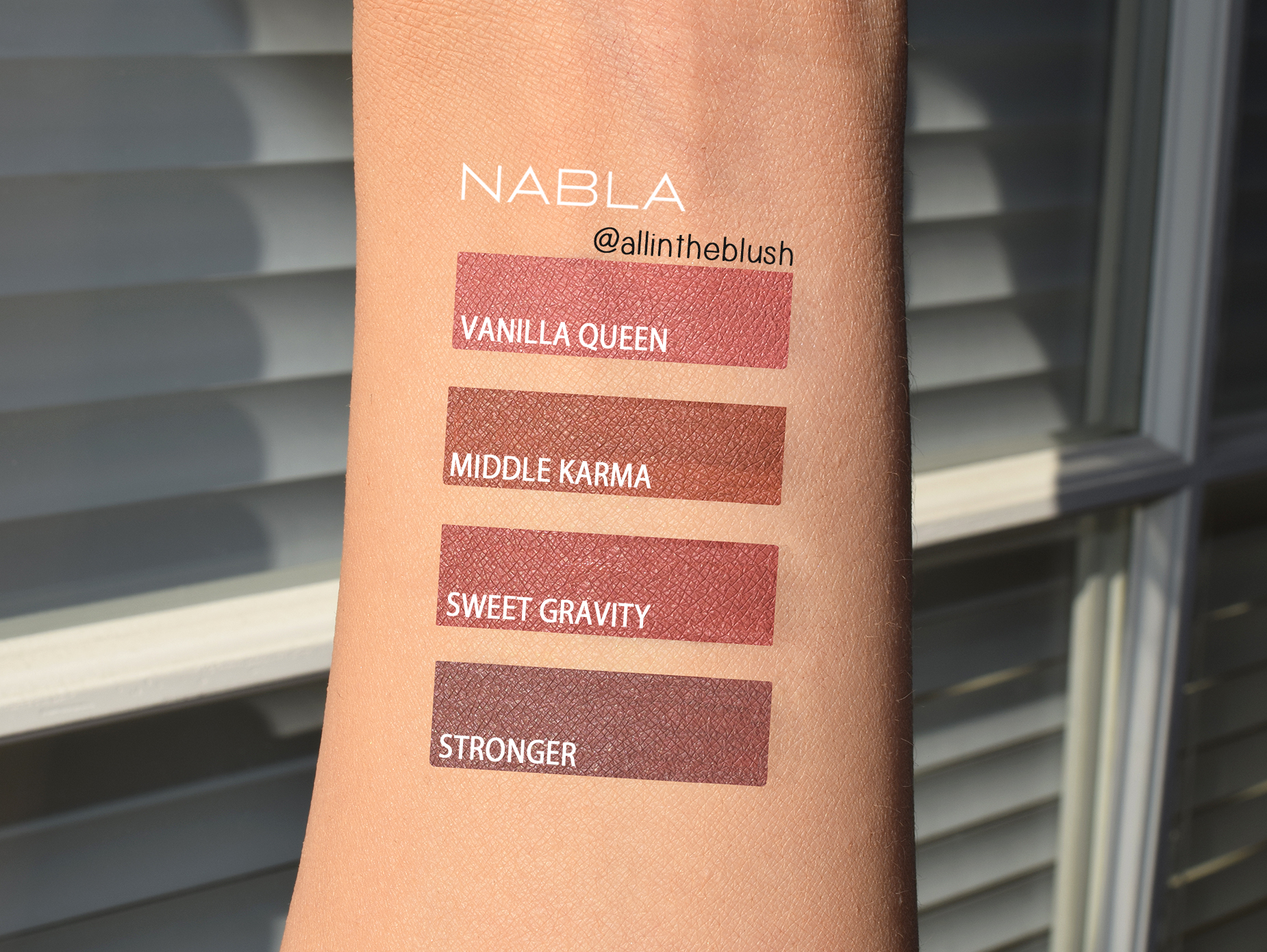 These shades were my favorite from the bunch being that I am a nude lipstick enthusiast. However, there are so many different shades in this bundle that there is without a doubt at least one that you will be drooling over.
Dupes
If you're into the Lime Crime Velvetine or Jeffree Star Velour Liquid Lipstick shades, the Nabla Lipsticks are amazing dupes (and better in quality in my opinion). For example, "Cotton" (the wisteria blue shade) is a dupe for Lime Crime's "Teacup". I also think the "Narcotic" (prussian blue shade) would be a dupe for Lime Crime's "Peacock", and "Stronger" (dusty mauve-hazelnut) would be a dupe for Lime Crime's "Cashmere". I will definitely be doing a separate post on swatching the Nabla shades to Lime Crime's and maybe Jeffree Star's too. But in the meantime, here are some comparison swatches below done by @dupethat.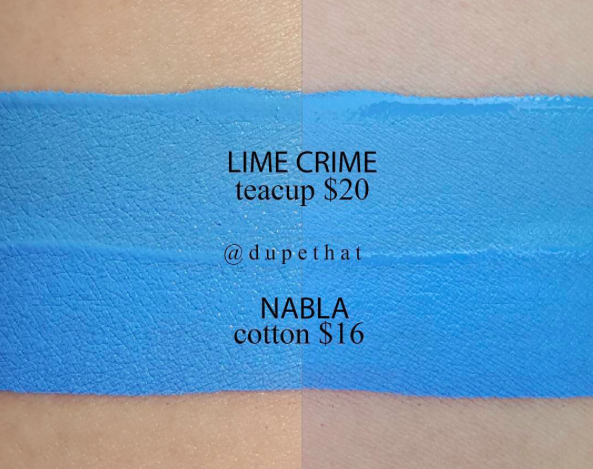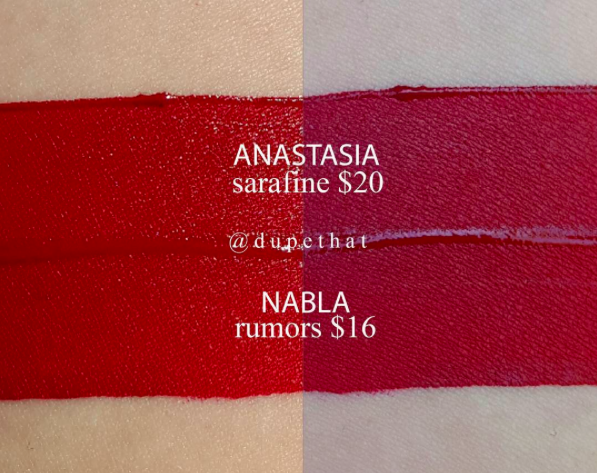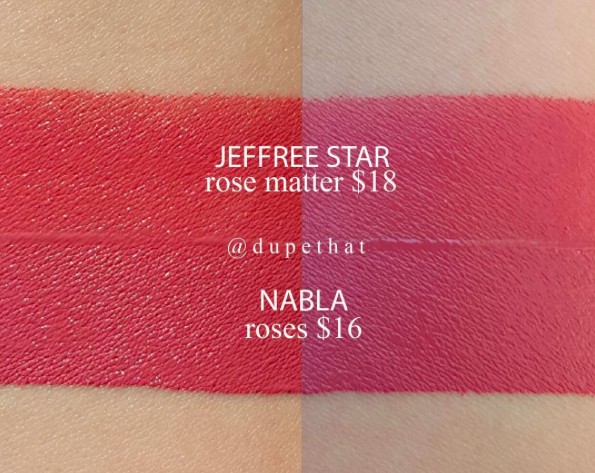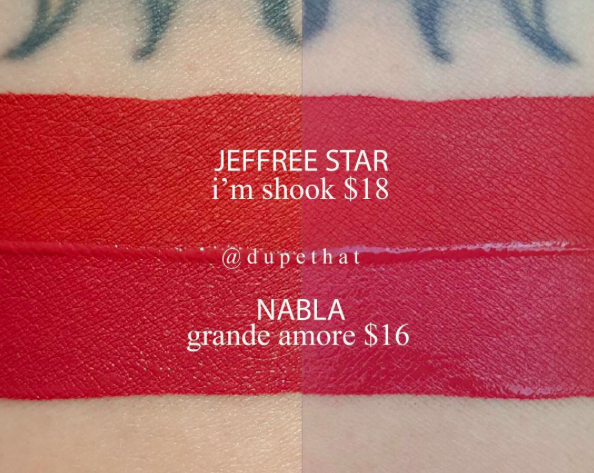 (Credit of all 4 dupe photos above: @dupethat)
Availability
The Nabla Cosmetics Dreamy Liquid Lipstick Bundle is available for € 208,60 on NABLA.
What do you think about this lipstick bundle? Let me know your thoughts in the comments below! 🙂