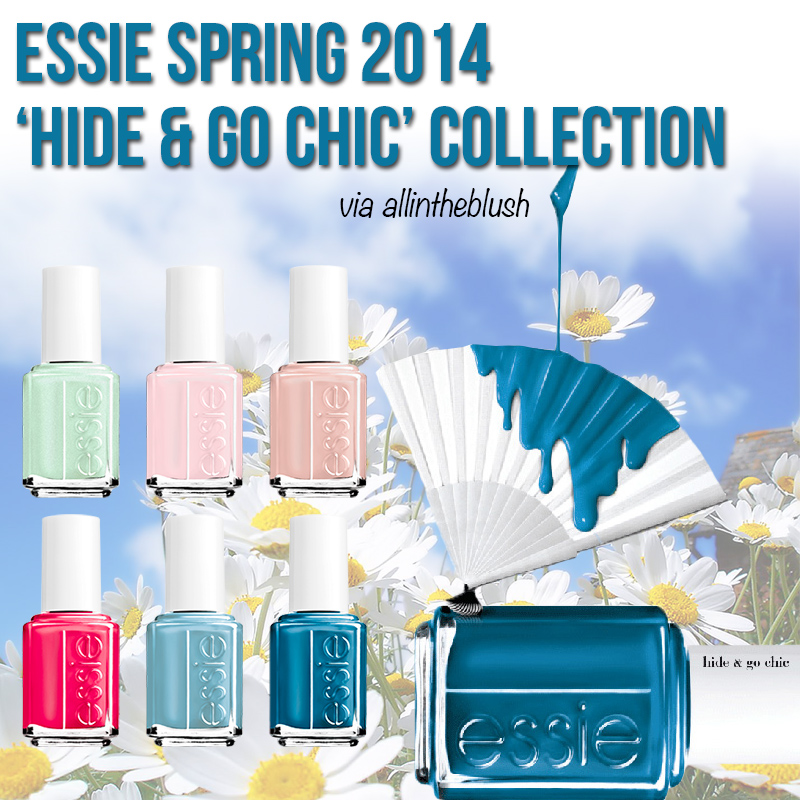 Essie Spring 2014 Hide & Go Chic Collection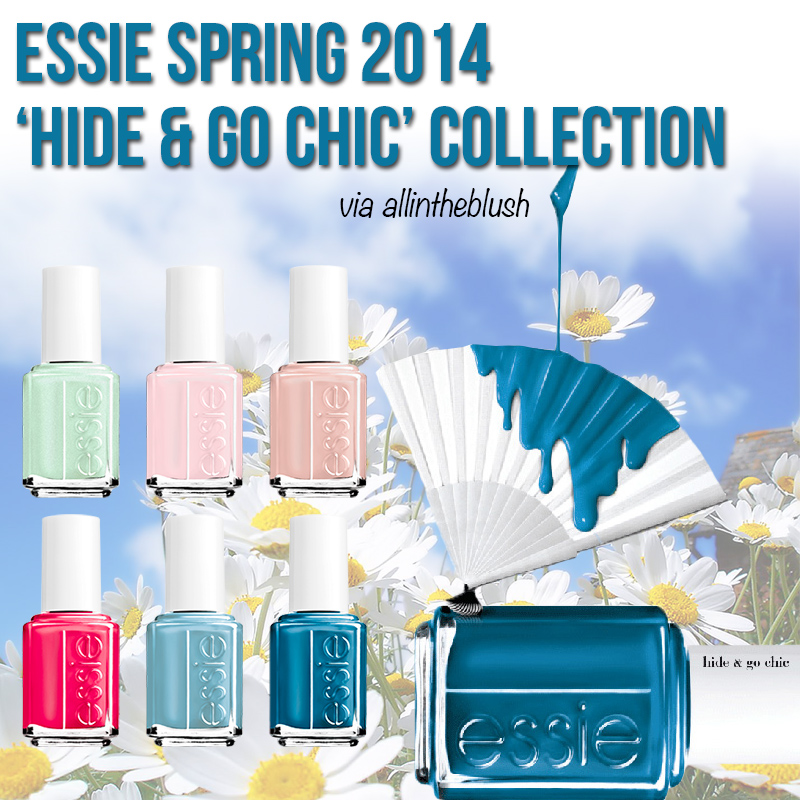 Essie's Spring 2014 'Hide & Go Chic' Collection is a mix of pastels and bright hues that could not be more perfect for spring. With a wide range in colors, you'll be sure to find at least one shade that floats your boat!

Essie's 2014 'Hide & Go Chic' Collection
"surprising combinations. power pastels. oversized prints. get in the fashion game with six irresistible and playful shades dedicated to women everywhere who aren't afraid to play – in life and in style."
Hide & Go Chic is described as a 'covetable azure blue'. The namesake of the collection, 'Hide & Go Chic' is an incredible hard-to-miss blue that somewhat reminds me of Essie's 'Butler Please' as well as Essie's 'Mesmerize'. This color is perfect for spring, and I will definitely be trying out this shade.
Fashion Playground is described as a 'plucky pistachio shimmer'. This shade reminds me of mint candy apple but with more of a grey undertone. I like how it's pastel yet slightly muted. Definitely a fan of this color as well!
Romper Room is described as a 'pale tea rose pink'. This color is probably my favorite of the bunch. It's such a lovely shade of pale pink and another great pastel in this collection. I'm interested to see how it compares with Essie's 'Fiji'.
Spin The Bottle is described as a 'semi-sheer nude'. From swatches I've seen, it reminds me of American Apparel's 'Mannequin'. It's worth noting that this shade is not the the kind of nude that wouldn't flatter every type of skin tone.
Style Hunter is described as a 'laser sharp crimson'. This watermelon-red is such a perfect color for summer! It's not your typical red nail polish which I like to see since Essie releases a lot of similar reds.
Truth or Flare is described as a 'vintage blue denim'. When I first saw this color I thought it was similar to Essie's 'Avenue Maintain' but seems a little less bright and more muted. I will try to do a comparison post on those two colors soon!
Overall, I think this collection has a great mix of colors, ranging from pastels to brighter hues. This is actually the first Essie collection that has me wanting to try EVERY single shade! Reviews are coming soon on these colors but in the meantime…check out this post.
What did you think of Essie's Spring 2014 'Hide & Go Chic' Collection? Let me know your thoughts in the comments below! 🙂